Ghostville Elementary
Written by Debbie and Marcia Thorton Jones Dadey
Illustrated by Jeremy Tugeau
Reviewed by Ali H. (age 9)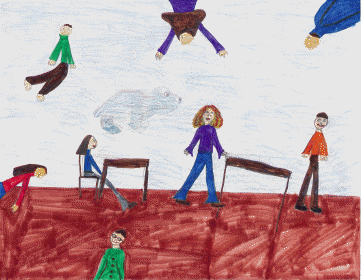 In the book, Ghostville Elementary, there are some kids. They are best friends. Their names are Nina, Jeff, and Cassidy. There is a new kid in class. His name is Edgar. There are also ghosts in the school. They are Becky, Sadie, Nate, Ozzy, and the ghost dog, Huxley. The only people who can see the ghosts are Nina, Jeff, and Cassidy.
The ghosts can be annoying, especially Ozzy. The ghosts are lonely and do not have many friends.
This is a great book! It has very nice, caring, regular characters. I really liked the book. I liked it because it described everything and it is fun to read. I liked it because it was easy to understand.
It felt exciting to read the book. It was different than most books. It was different because it had ghosts that are nice. I wonder what it would feel like to be one of the characters in the book.
Huxley, the ghost dog, reminds me of my dog, Gus. He reminds me of Gus because they are both bouncy dogs and they both love to bark.
I strongly recommend this book because you won't want to put the book down. I think you would like this book if you like books that have cool ghosts in them. I think you would like to read this book if you are in the fourth grade or younger.