Stone Fox
Written by John Reynolds Gardiner
Illustrated by Marcia Sewall
Reviewed by Brandon M. (age 9)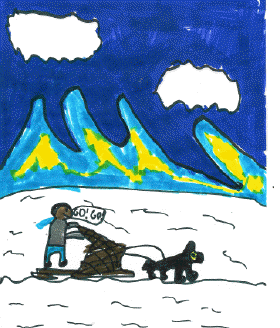 Do you want to read a story about a ten year old boy with a dog? In this book Willy enters a sled dog race all because his grandfather is in his bed refusing to get up because he needs money for taxes.
My favorite part was when Willy won the race with his dog Searchlight, because he got the money for the taxes. In the race Willy and Searchlight beat the champ, Stone Fox. It was really special that he beat Stone Fox because he was undefeated and he had won the race many times.
The most interesting characters were Willy and Searchlight. Willy, because he cares so much about his family and wants his grandfather to get out of bed. Searchlight, because she is a cool looking dog with a diamond white spot on her forehead. Plus Searchlight never gave up!
This book made me think of the olden days because it seemed like things they had were old fashioned. For example, they had an old fashioned plow at Willy's grandfather's farm.
I recommend this book for kids 8-15 years old because it has sadness in it. People who like dogs and sled dog races should read this book. So if you like action and sadness you will like this book!