Gremlins Don't Chew Bubblegum
Written by Debbie and Marcia Thorton Jones Dadey
Illustrated by John Steven Gurney
Reviewed by Shawn D. (age 9)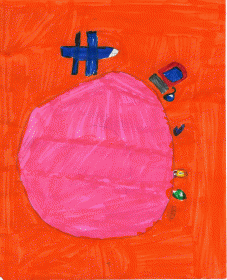 This book was about a substitute janitor named Miss Kidwell. Miss Kidwell tries to turn off the power to Bailey City. The Bailey School Kids are trying to save their city from Miss Kidwell. Will the Bailey School Kids be able to stop her? Read Gremlins Don't Chew Bubblegum and find out!
I like this book because it is exciting. My favorite part was when Eddie flew his plane into Mrs. Jeepers. I liked this part because it was funny and exciting.
I felt happy because the kids solved the mystery of Miss Kidwell and saved Bailey City.
While I was reading this book I wondered if Miss Kidwell was really a gremlin. I still don't know if she really was or not.
I recommend this book for 2-5th graders. A child who likes books that are funny, exciting and full of imagination will enjoy this book.