When Sophie Gets Angry--Really, Really Angry...
Written by Molly Bang
Illustrated by Molly Bang
Reviewed by Diosa M. (age 6)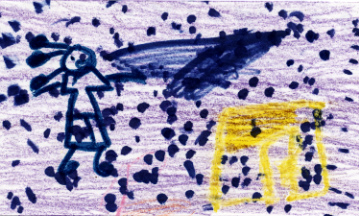 This book is about when Sophie got angry at her sister because she was mean. Her sister grabbed the Gorilla doll away from her. Sophie told her mother, but her mother told Sophie it's her turn. When Sophie gets angry, she gets really angry! She roars, she smashes things, and that's bad. She ran out of the house. She was running and running and then she cried, and then she climbed a tree. She heard a sound going like "Tweet!" and "Squeak!" and "Chirp!" and "Hoot!" and "Chrrr!" I finished the book, but I'm not going to tell you the ending!
I didn't like it that Sophie's sister grabbed Gorilla. I thought she was mean. Some of the pages in the story were interesting. My favorite part was when Sophie went home. My other favorite part was when the animals talked. I liked the colors in the pictures. My favorite one is when Sophie roars a red, red roar. The book isn't like any other book I've read. I felt happy as I read the book, especially when Sophie wasn't angry anymore.
I think other children would like this book because it's funny and silly. I think my sister Rosa and my brother Marcos and my mother and father would like this book. But I don't think my grandma would like this book.