Christmas Santa Almost Missed
Written by Marian Fances
Illustrated by J.I Anderson
Reviewed by Anthony J. (age 12)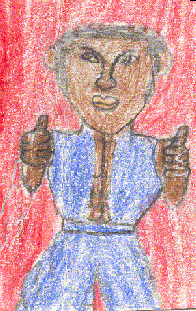 The story is about how Santa almost missed Christmas. Why did Santa almost miss Christmas? Santa almost missed Christmas because he lost his hat. He looked every where. He searched all around the place to find his hat. Santa was confused, knowing that he had so much to do on Christmas Day.
I like the illustrations because they are very bright, beautiful and exciting. The color scheme puts you in the Christmas mood. The lesson learned by Santa is that you should keep up with your things or you will lose them. I think that this book is the best book I?ve ever read. My favorite part of the story is when he looked everywhere for his hat. I remember when I lost my five dollar bill. I never found it. I know how Santa feels in this story.
Did Santa find his hat? Did he do the job that he always does on Christmas Day? Read this book and you will find out. I think that it will be a great idea for all pre Kindergartener and first grade students to read this book because it is a very good book for kids.