Following the Mystery Man
Written by Mary Downing Hahn
Reviewed by Taylor S. (age 11)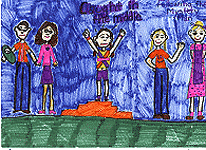 When Madigan Maloney meets a mystery man she never imagines that she will be in a load of trouble. A mystery man rents a room from Madigan?s grandma and Madigan thinks that he might be her long lost father. When Madigan decides to try to find out more about this mystery man, she never thinks that she will be fighting for her life. She discovers the mystery man is not only not her father but he is a thief and captures her so that she won?t tell the police.
Mary Downing Hahn is my favorite author. Her books make you want to keep reading. This book was probably one of her very best. Madigan reminds me of myself because we are both very curious but of course I don?t go out and follow a man that I?ve never seen in my life. This book was fun to read and I never wanted to stop reading it.
I reccomend this book to anyone who really likes a good book and likes a crime with a happy ending. This book should be a nominee for the best book ever read. I give it five stars.