Islander
Written by Cynthia Rylant
Reviewed by Anna M. (age 10)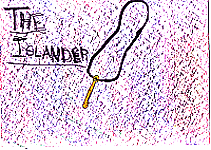 Have you ever told someone about something you saw and they thought you were crazy? That?s what happened to Daniel when he saw a mermaid while on the shore at the sea.
Anna?s father went out on a ship during a storm and didn?t come home. Anna and her dog, who has a star shape on its forehead, go out to sea to look for him. Anna?s dog falls into the water and she goes in after him. They mysteriously disappeared and were never seen again. Daniel discovers a mermaid who has a little otter with a familiar marking on his head. The otter gives Daniel a key that helps him save a little girl?s life by vibrating when he gets close to her.
I think this is kind of a mystery/fiction story. I like it because there isn?t really a moral to it. The most interesting characters I think are Daniel, and Daniel?s Grandpa. They remind me of my own family in a way. This isn?t like any other book I?ve read before.
I recommend this book to anyone who likes kind of confusing stories. Anyone who likes mystery stories would like this book. It?s kind of easy to figure out at the end. It?s a good story, though.