All the Small Poems and Fourteen More
Written by Valerie Worth
Illustrated by Natalie Babbitt
Reviewed by Caitlin C. (age 11)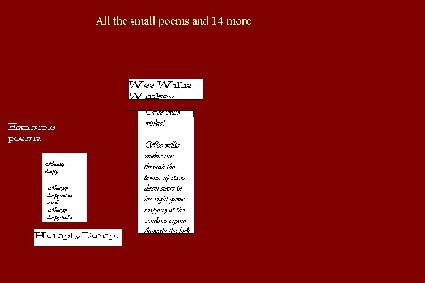 All the Small Poems and 14 More is about poems. The poems in the book are really short. One of the poems that is in this book is called Chairs. There are 113 poems all together. This poem is really short. I read it in two days. I don?t think that there are any lessons to learn in this book. Well there is one I believe. The one thing is to learn that life is cool. It tells you that in poem and a picture.
I thought that book was really short and I didn?t like the book. I didn?t like the book because it was really short and some of the poems didn?t make any sense. My favorite poem was Chairs. Chairs is a poem that tells about life. There is a wonderful illustration that goes along with the poem too. The picture is a chair. But if you ever read the poem and look at the picture you will see that the chair is like a person. It?s not like the other books that Valerie Worth writes. If a second or third grader read it they would want a sequel or a series.
I would recommend this book to second or third graders. This book would be good for children who have vivid imaginations. I think that it would be good for second and third graders because it?s easy to read. Also the pictures are fun to look at. Also I would recommend this book to kids that like to read.