Football Nightmare
Written by Matt Christopher
Reviewed by Brandon L. (age 10)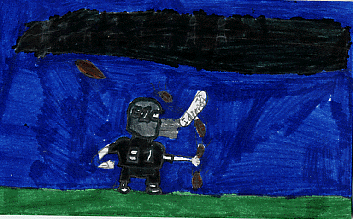 Cody is a thirteen year-old boy who is well known by other teams and his school as a very good football player. His team is undefeated this season. The team is playing the championship game, they are down by four points, and there are only a few minutes left in the game. Cody's team is relying on Cody to catch the winning touchdown pass. Cody dropped the ball and his team lost the championship game. After the game, Cody felt no one liked him because he didn't catch the winning pass. Cody has a lot to learn about what people think of him. The story shows us that people do make mistakes, and trying your best is the most important thing. You will find out more about Cody and his friends when you read this book.
In this book, Cody reminds me of myself because I play sports, too. The way the author writes about kids playing sports seems very realistic and made it fun to read. I like this book because it points out that you may not always know what people are thinking even when you think you do.
I recommend this book because the story is like something that might happen to kids my age. People who like and play sports will especially like this book because they can relate to the pressure. The characters are fun to read about because they are interested in playing sports like me.