In the Attic
Written by Hiawyn Oram
Illustrated by Satoshi Kitamura
Reviewed by Mauricio Z. (age 8) & Terik B. (age 6)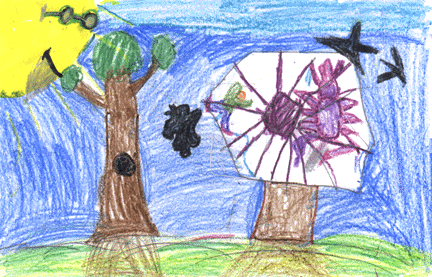 The story is about a boy who went in the attic because he was bored. He used his imagination to go to an imaginary attic. He found a quiet place to rest. He made a spider web. He found a flying machine. He was looking for a friend to play with. He went home because he was lonely.
We love the book. The book is interesting and funny. It's funny because his mother said that they didn't have an attic. His mom did not see the ladder that he used in his imagination. This book is very nice because he is using his imagination. This book is similar to Where the Wild Things Are because they both go home to their moms.
We recommend this book to all kids around the world because it's exciting because he uses his imagination. When he goes up to the attic, it looks like a castle.