I Just Forgot
Written by Mercer Mayer
Illustrated by Mercer Mayer
Reviewed by Yuta S. (age 10)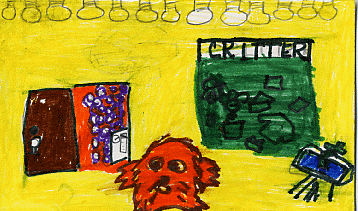 This story is about the little Critter who forgot little things all of the time. One morning he forgot to put the milk in the refrigerator and he forgot to shut the refrigerator. Critter's family got sick from the spoiled food in the refrigerator. Then he forgot to shut the washing machine and the house had bubbles all over it. His mom got a little mad at all of the things he forgot to do but when he kissed her a lot, she was happy again. Moms' love you know matter what you do even though they might just get upset once in a while.
I liked this book because it is funny because he forgot things and it made me laugh. I like that he forgot to shut the refrigerator because it was funny and he seems like a silly, crazy kid. I'm a little like Critter because I forget to do things too. I liked the pictures in this book too because they are colorful.
I recommend this book to funny kids because the story is so funny. Every day Critter does funny things. The characters are so funny they make you laugh.