Cinderellis and the Glass Hill
Written by Gail Carson Levine
Illustrated by Mark Elliott
Reviewed by Melinda N. (age 10)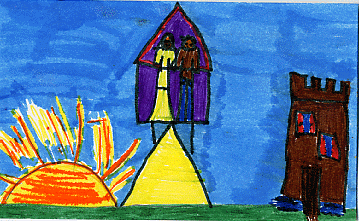 Cinderellis is a girl that doesn't want to get married, but her father wants her to. The king was so rich that he built a glass hill. He had a contest to see who could ride their horse up the glass hill. The man who could do it would get to marry the king's daughter. She meets a farmer boy who has horses. She secretly wants to marry him, but the king doesn't know about him. Check the book out to see whom she marries.
I think that the book is interesting. I liked the book because she meets a farmer boy that she marries. He has a good character and treats her very nicely, so I was rooting for him through the whole story. My favorite part of the book is when the king built a glass hill and held a contest. This story reminds me that I am related to a queen because we have a queen in our family tree. It makes reading the story mean a lot to me.
I recommend this book for people who like horses. I like horses. People that like horses would really enjoy this book. The horses are an important part of the story. The characters in this book interest me because they all have different attitudes.