Back Yard Angel
Written by Judy Delton
Reviewed by Katie B. (age 10)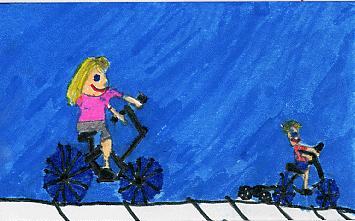 Angel has no friends. She has a brother named Rags. For the summer, Angel must look after her little brother while her mom works. Most of the time, she was either bored or in trouble. One day, Angel goes to the mall and loses Rags! She is really scared. Will she ever be able to talk to or play with her brother again? This story teaches that it is more fun to be with someone else than to be all alone. Read this book to find out what happens to Angel and Rags.
I liked this book because the author describes everything so well that it sounds real. The characters are really silly and fun to read about. One of the weirdest characters is Angel's little brother, Rags. He is always doing unexpected things like admiring himself in the mirror and wearing funny clothes. One of my favorite parts is really funny because a hairstylist cuts off all of Angel's hair. Angel hates it!
I recommend this book because it will make you have many emotions. Anyone can read this book because it is for all grade levels. It is short and fun to read, and I think you will enjoy every minute of it. I hope you will read this wonderful and enjoyable book.