The Cabin Faced West
Written by Jean Fritz
Illustrated by Feodor Rojankovsky
Reviewed by Megan S. (age 10)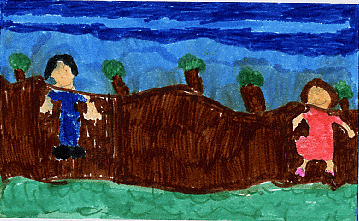 This story is about a pioneer family who have gone west to farm. Ann has two brothers who try their hardest to make things difficult for her. Ann has no friends. She feels very lonely because she has no one to play with. Ann hated living on Hamilton Hill. One day a storm came and destroyed the garden she had planted and worked hard on. Her family felt lucky that they were still alive, because the storm was so bad. The story points out how having your family safely around you is more important than having material things. One day, Ann went outside to look for berries. Read this book to find out what important person comes down their road.
I think this is a great book. I like it because it has action and it has situations that kids my age might have faced in those days. Ann changed in the book because in the beginning she felt sad and left out. She reminds me of myself in that way. By the end of the story, she is happy and proud that she lives in the west.
I highly recommend this book because it's an interesting story about pioneer days. It is similar to a book I read before called Trouble River. Both books have an annoying character, but they are still fun to read about. The reader who would like this book is someone who has felt left out before. The interesting thing about this book is that the story is based on things that have happened to the author's own family.