Mummies Don't Coach Softball
Written by Debbie and Marcia Thorton Jones Dadey
Illustrated by John Gurney
Reviewed by Shawn H. (age 10)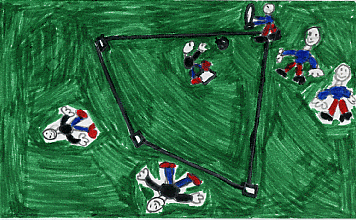 The regular coach of the Bailey City Batters goes on vacation and the team gets a substitute coach, Coach Tuttle that is unlucky. He is mostly unlucky because he gets hurt a lot while he is coaching softball and then he wears a lot of bandages. One time he was holding a lot of stuff in his hands then he was trying to close the back of his car and he dropped all the stuff to the ground and then he tripped on a bat and hit his head on the ground. The substitute coach started loosing his bad luck streak by the end of the season and it seemed like he was feeling better about himself and being a coach.
I think this book was good because some parts in the story were funny like when Coach Tuttle kept hurting himself and kept putting bandages on himself. This story reminds me of when I played baseball because some of the characters were like the ones I played with.
I recommend this book because it has some parts in it that are funny and it kind of puts you in the story. People that would like this book would be people that like funny stories. The part in the story that would interest readers most is the plot because it is mostly about a guy that is rapped up in bandages that looks like a mummy.