To Touch the Stars
Written by Karen Zeinert
Reviewed by Zoe L. (age 9)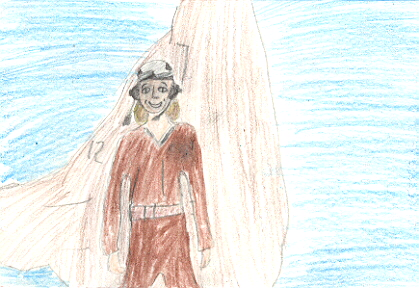 When the United States entered World War II, they were desperate to find some way to win. So they trained women as young as eighteen to ferry planes. They called them the Women Airforce Service Pilots, or WASP's. Eighteen year old Liz of Wisconsin is one of them. She tries to fly through a storm and someone purposely fiddles with her plane, nearly killing her! She also makes many friends and goes through many life-threatening dangers, but with her knowledge and courage she somehow figures out a way to manage. As she discovers her own courage and dream of becoming a pilot, she figures out who really killed her mother, and who tried to kill her.
I liked this book because it kept me guessing and laughing from beginning to end. I also enjoyed this book because it shows the action in great detail. I especially liked Liz because I think she is like me, she never gives up and follows her dreams. At the beginning of the book, Liz is afraid to try new things and she is very sad over her mother's death. Yet at the end of the book, she knows her mother would be proud of her and she is much more daring and courageous.
I recommend this book to girls who enjoy adventure and action in historical fiction because it teaches a great lesson and is full of action.