Getting Near To Baby
Written by Audrey Couloumbus
Reviewed by Tsering S. (age 10)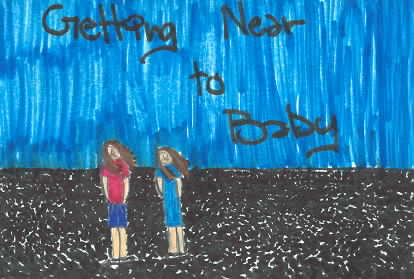 The sunrise is the reason they're there. Every morning Willa Jo and Little Sister sneak up onto the roof of their Aunt Patty's house to see the sunrise and remember Baby. Baby was the reason they lived, the reason they breathed, and now she was gone. Their lonliness was unbearable and they were pulled away from their mother and dragged to the town of Raleigh. Aunt Patty has different ways of doing things, a different idea of how things should be done and forces Willa Jo and Little Sister to do the same.
I liked this book because it had alot of details and interesting characters. The way the author explained the different experiences that Willa Jo and Little Sister went through helped to make this a great book, but it was hard for me to finish because it is a very sad and emotional book. I found all the characters interesting. They were all having a hard time but they managed to get through it together. In Getting Near to Baby, Aunt Patty changed from being a bossy and revolting person to someone that Willa Jo and Little Sister could call family. All the characters go through alot of change, all of them have their ups and downs and all of them manage to get through.
I would recommend Getting Near To Baby to people between the ages of nine and sixteen who like emotional books. Although this book is sad, there are also some funny parts in it, and the wonderful descriptions were what made this book pheonomanal.