Among the Hidden
Written by Margaret Haddix
Illustrated by Cliff Nielsen
Reviewed by Joseph N. (age 10)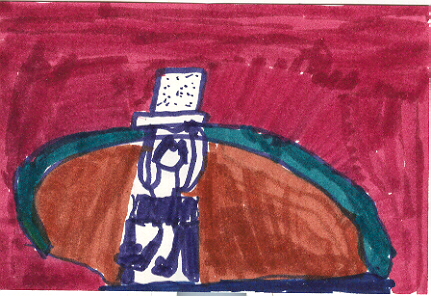 Luke Gardner is a shadow child. He is an illegal third child. He has never been to school. He lives in the woods and is close to being happy when the government knocks down the woods and builds a lot of houses. He sees another child in a house where he knows there are already two children. Can he risk going to the house? Will he be caught by the population police?
I liked this book because it was very exciting when Luke was going to the other house. My favorite part was when Luke was keeping track of the other child. Luke changed over the course of the book. At the beginning he wanted to hide from the police, but by the end of the book he wanted to stop hiding and go outside of his house. This book is special because it hooks the reader easily. There are no illustrations in this book, but I was able to have mental pictures because the author used good descriptive words. You should read this book if you like exciting mysteries. As I was reading this book I felt like I never wanted to stop reading it. I liked this book because it was very exciting. If you like this book, then you should read Among The Impostors and Among The Betrayed by Margaret Haddix.
I recommend this book because it is unique and different from other books I've read. It is scary to imagine living in a place like the one in the book, but it is interesting to think about it when you read it. I would recommend this book for kids ages 9-12. It is a great book to read at bedtime because you won't want to put it down and you'll have to stay up late.