Absolutely Normal Chaos
Written by Sharon Creech
Reviewed by Kelly C. (age 11)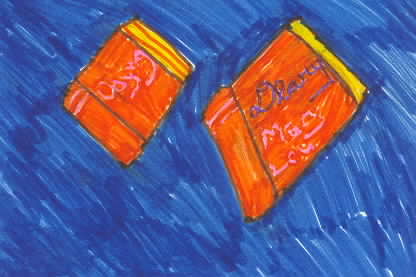 Absoloutly Normal Chaos is about a girl named Mary Lou Finney. Mary Lou has to write a journal over summer and she knows for a fact that it will be boring. But things change for her. She starts to write a lot of things in her journal. By the time she has spent about a week writing in it, she can't stop. When her cousin, Carl Ray, comes to visit her, she has to do all his work and can't handle it anymore. Then she starts to find out that Carl Ray is hiding secrets, but she does not know what they are. Later in the book, she can see that Carl Ray has not only come to find a job, but has come for something else.
I really liked this book. It really catches your attention by making you feel so curious and keeping you interested to read more. My favorite part in this book was when Mary Lou goes on a date with Alex. Another part is when she figures out all the secrets that Carl Ray is hiding. This book is like some of the other Sharon Creech books I've read. They are all alike because they have a lot of the same characters.
I would recommend this book for girls because it has a lot of parts in the book that would probably not catch a boy's attention. The book would be of interest to girls, though, because it has a lot of parts that relate to young girls.