The Man in the Ceiling
Written by Jules Feifer
Reviewed by Benjamin B. (age 10)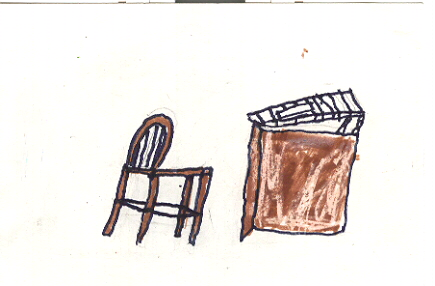 Jimmy was great at drawing, but he couldn't draw a hand. However hard he tried the fingers turned out to be bananas or blades of grass. The hero of the school, Charley Beamer, asked Jimmy to show him his comics. Charley Beamer got tired of Mini Man, (Jimmy's comic) so he gave Jimmy the idea of Bullet Head. Bullet Head grossed Jimmy out, so that he couldn't do it. Since Jimmy couldn't do Bullet Head, Charley Beamer was no longer his friend. Then Jimmy's uncle, who writes musicals, almost made it to Broadway, but the critic from The New York Times didn't like it. One day Jimmy's uncle is coming to dinner and Jimmy has a plan.
I liked this book because it is very realistic. Jimmy reminded me of my friend who is very good at drawing but can't draw a hand. My favorite part was when Jimmy's sister was having a tantrum because Jimmy forgot to bring her cookies and milk because Jimmy's sister reminds me of my cousin.
I recommend this book to people who like to draw. You might relate to this book because you are very good at something, but you also are bad at something. I recommend this book because it is very realistic and interesting.