Into the Land of the Unicorns
Written by Bruce Coville
Reviewed by Ashley H. (age 11)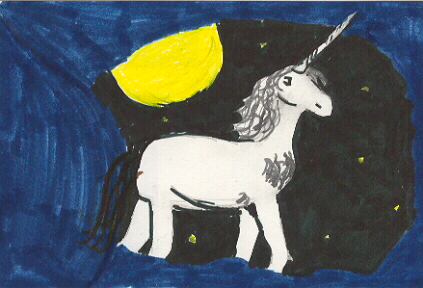 Have you ever thought about throwing yourself off a building with a special amulet in hand, leaving your grandmother behind in danger while you travel into another world? I bet Cara, a 14-year-old orphaned girl, never thought about it either, but that is exactly what happened to her. While a man is pursuing her, she is forced to jump off St. Christopher's into Luster the land of the unicorns. There, she meets the Dimblethum,(a man-bear), Lightfoot, (a young, rather spunky unicorn), the Squijum, (an annoying creature that is somewhat a cross between a squirrel and a monkey), and Thomas the Tinker. Together, they travel across Luster to deliver the amulet and her grandmother's message... "The Wanderer is weary" to the Queen. The amulet must be brought to the Queen to keep it from the Delvers and Beloved, a young yet evil girl, who is trying to slay the unicorns. To flee the pursuing Delvers, they must pass through Firethroat the dragon's territory to see Grimwold, the story recorder of the Unicorn Chronicles. However, upon exiting they are taken to Firethroat's cave. Once there things are revealed to Cara that she would rather never have known and things are done that would change her life forever.
I liked this book because it was very original with many interesting characters. I especially liked Dimblethum, who is gentle, yet tough. He is also in the second book, Song of the Wanderer, of the series The Unicorn Chronicles. Song of the Wanderer is also a unique book, in which Cara must find her grandmother. I like many of the books by Bruce Coville because he has great imagination and talent.
I would recommend this book to anyone who likes fantasy and folklore because it is somewhat of a fairytale, yet different. I think that girls would like this more than boys, however it is a book for all ages.