My Father's Dragon
Written by Ruth Gannett
Illustrated by Ruth C. Gannett
Reviewed by Jack H. (age 10)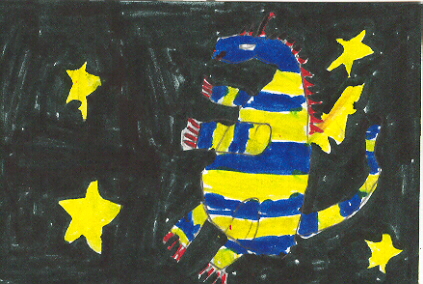 This is a book about an old cat telling Elmer, a young boy, about a baby dragon on Wild Island. The animals on Wild Island are using him in a bad way, so Elmer packs up his things and goes to Wild Island to save Boris the dragon.When Elmer gets there he uses his supplies to save the dragon.
My favorite character is Elmer. I like Elmer because he doesn't give up even when he's in a bad position. This book reminds me of the Dragons of Blueland. Both books are about not giving up. My favorite part is when Elmer crosses the river to get to the dragon. He has to give each of the alligators lollipops. They eat them, and the animals are stranded on their backs. I thought that was very funny.
I would recommend this book to people from third to sixth grade who like adventure and surprises. It is an exciting book and there is a lot of action. If you like animals that talk and dragons, I'm sure that you will like this series, and especially this book.