Tuck Everlasting
Written by Natalie Babbitt
Reviewed by Taylor M. (age 8)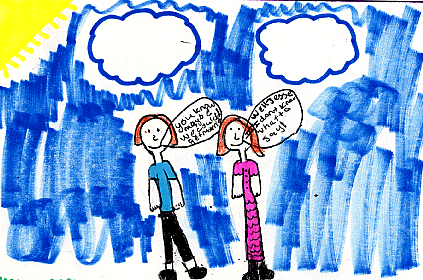 The story Tuck Everlasting is about a girl, Winnifred Foster, and a boy, Jesse Tuck. Jesse Tuck has a secret about his family. The secret is that they all drank from a spring that would make them live forever, but they didn't know. Everyone drank the water except the cat, and the cat died. Winnie found out about the secret. First Jesse told Winnie not to drink the water then he told her to drink the water so she could live forever and never die. Then Mae and Tuck got in jail and Winnie helped get them out by pretending to be Mae in the jail. Tuck Everlasting is also about how people meet and fall in love and they want to be together forever.
My favorite part in the story is when Jesse says "You know, maybe we could get married" . My favorite characters are Miles, Jesse, and Winnie. I like the story because it kept me wondering what would happen next to Winnie and Jesse. I wondered if they would get married or not. I really wished that they would have.
I think other people should read Tuck Everlasting and see what they think about the book themselves. I think the fifth graders or up could read Tuck Everlasting by themselves.