Skipping Christmas
Written by John Grisham
Reviewed by Christopher T. (age 12)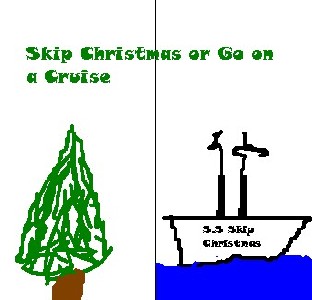 Just take a minute to imagine a year without Christmas?????. what would you do? Well in this story Luther and Nora Krank decided to take the year off from Christmas. The main reason they ?took the year off? is because their daughter Blair would be in Peru helping under privileged children. Instead, the Kranks are going on a cruise in the Caribbean for 10 days. Out of nowhere, Blair calls and says that she is coming home and she is bringing someone with her. I won?t tell you who. Her parents don?t know what to do and they are scrambling around like chickens with their heads cut off. I won?t tell you the rest of the story so you?re going to have to read it.
Many people would probably not like the idea of skipping Christmas. I, on the other hand would like to try it. Think about it this way???? you wouldn?t have to spend money on gifts, or you wouldn?t have to go to crowded malls. I would also like to take a cruise (who doesn?t?). One of the characters changed in the first few chapters. It was Nora, at first she did not like the idea of ?skipping Christmas? but later on she finally decided that it would be ok to just do it once.
I would recommend this because it is very enjoyable and fun to read (even if it isn?t Christmas time). I think you have to be a little bit advanced in reading if you want to read this book. I was attracted to this book because of its title maybe you will too. The characters are also very interesting such as Luther, he is usually grumpy but can be happy at times. Luther reminds me of an old man who is always complaining about things that aren?t a big deal. So I would pretty much recommend this book to anyone who can read!