Locked in the Library
Written by Mark Brown
Illustrated by Mark Brown
Reviewed by Catherine S. (age 7)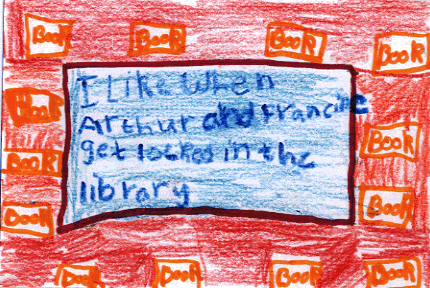 Arthur and Francine got locked in the library because they were not watching the clock and eating pizza. D.W. was talking to Francine on the phone about Arthur being mean but he's not. Francine and Arthur were reading and Arthur fell asleep. Arthur was fighting for a book. Francine was worried about Arthur.
Read the book and find out more.
The book was good. I like the book because Arthur is nice because he didn't do anything mean.
I liked the characters because they're good and Francine was worried because she did not like Arthur.
I felt good when I read the book, it made me wonder about more of the book.
My favorite part is when Arthur and Francine get locked in the library, because Francine was worried.
I thought the book was good because it is fun to read.
D.W. is my favorite character because she is funny and Goofs Arthur.
The book reminds me of going to the library and reading and having fun,
I recommend this book to people ages 7 to 15.
Number of page is 58.