The Tower of the Elf King
Written by Tony Abbott
Illustrated by David Merrell
Reviewed by Syra C. (age 9) & Lexus R. (age 9)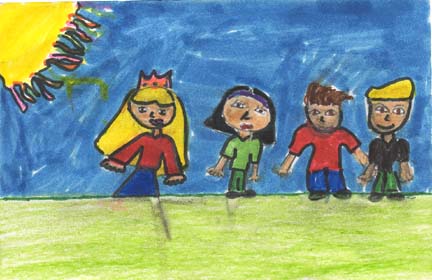 This book is about somebody robbing the Lumpies' village. The kids named Eric, Julie, and Neal go to find the creature that stole from the Lumpies. They think it is a creature because they had a dream about it. It can't be Lord Sparr because he disappeared. Eric, Julie, and Neal went to the Lumpies' village with a princess called Keeah. When they got there, they found a scale of the monster?s skin. That gave them a clue that the monster was close by. Read this book and see if they solved the mystery.
Lexus thinks Tony Abbott made a good mystery because it gave her a close idea of what's going to happen. Syra thinks that this is a good book because Tony Abbott uses a lot of details and is a good mystery writer. We like the part when Eric,Neal, and Julie took spoons and shot meatballs at the Ninns (the Ninns are monsters).
Syra recommends this book to everyone that likes mysteries because this book will put you in suspense. Lexus recommends this book to everyone that likes The Secrets of Droon series. Lexus and Syra recommend this book to people all over the world who like Tony Abbott.