The Amazing Days of Abby Hayes
Written by Anne Mazer
Reviewed by Olivia D. (age 9)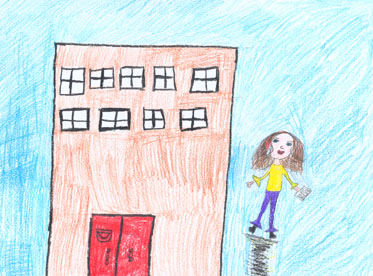 I read a book called the Amazing Days of Abby Hayes. It is about a girl, named Abby, who shares her life with reader by writing in her diary every other day. She has blue eyes and puffy red hair. One day Abby goes to school and gets sent home with a letter about a school festival. She is very excited about this. But when she comes home she tells her mom, and her mom says ?Only if your father, Alex, and I can come with you.? So then Abby does extra chores to show her mother that she can go alone with her friends to the school festival. She cleans the house, takes care of her brother, and makes the family breakfast. But one day a disaster strikes. You will have to read the book for your self to find out the rest.
When I read this book it was a little confusing because there is purple print and there is a black print. The purple print is for when the reader is reading Abby?s diary entries, and the black print is just the narrator. One of the reasons I like this book is because the style of it is diary form. My favorite part was when Abby finds out that there is a school festival, because I like the surprise. This book reminds me of my own life because Abby has a brother and 2 sisters, and I have a sister and 2 brothers.
I would recommend this book to a friend, because it is funny in some parts, and it sticks on to the same topic. I enjoyed reading all of the series books about Abby Hayes. My favorite book about Abby Hayes was Every Cloud Has a Silver Lining. This book is appropriate for the grades 3rd, 4th, and 5th graders. Enjoy!