Tuck Everlasting
Written by Natalie Babbitt
Reviewed by Nicholas S. (age 9)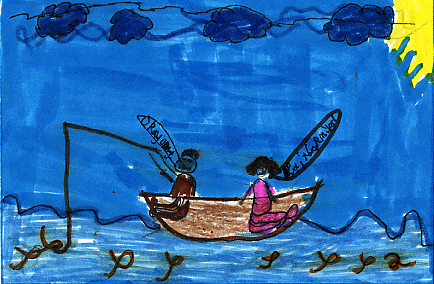 This book is about the Tuck family. They knew a secret, and it was a spring that would make you live forever. It was a big, big secret. They can't be seen much because people would know they never got any older. Winnie had two choices, to keep the secret or to drink the water and join the Tucks. What will she do? Read the book and find out.
I liked this book very much because the story was great. My favorite character is Jesse. Jesse does funny things. He asked Winnie to marry him when she was 17. He ate pancakes and when his fingers got sticky, he just licked them. My favorite scene in the book was when Miles took Winnie out on the lake to fish. I like it because I like to go fishing too. I go a lot.
I think people should read this book because it is a fantastic and tremendous book. I think sixth graders and up could read this book. It has hard words. Second graders should not read this book because it might be too hard for them.