Dinner at the Panda Palace
Written by Stephanie Calmerison
Illustrated by Nadine Bernard Westcott
Reviewed by Mollie M. (age 8)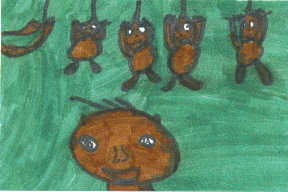 This counting book is written as a poem. Different animals come in groups to eat at Mr. Panda's restaurant. The book starts with one animal and then other animals come in until there is a group of ten. But there is a suprise at the end. That's why Mr. Panda says that there will always be room for everyone at the Panda Palace.
I think it is fun to read this book to little kids. I liked it because it was a funny book to me. My favorite part was when the panda and the alligator moved fast to serve all the diners. I thought this part was funny because I thought that they would run into each other and knock each other down. Another funny part in the book is when the monkeys come in to eat and swing on the lights to get to their seats.
I recommend this book to first graders who can read well. Second and third graders would probably like to read this book, too. You will like this book if you like animal characters who act silly.