Sweet Dreams
Written by L.C. Falken
Illustrated by Lisa McCue
Reviewed by Emily P. (age 8)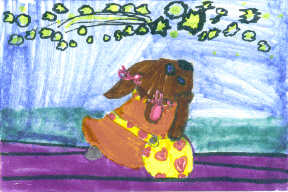 This book is about a mommy rabbit and her three little bunnies. They play outside until it's time for dinner. They sit outside and watch the stars. Before they go to bed they take a bath and their mommy reads them a bedtime story. Then she does something special. Read this book for find out what it is.
My sister is just like Dozy, one of the bunnies in the story. She likes to sleep in just like my sister. My favorite part is when the mommy rabbit reads the bedtime story to her bunnies because my mommy reads bedtime stories to me. I like bedtime stories because they help me get ready for bed and fall asleep.
I would recommend this book to first and second graders. They would probably like to read this book because first and second graders have bedtime stories read to them. They could imagine themselves being read to in the story, too.