Chocolate Fever
Written by Robert Kimmel Smith
Illustrated by Gioia Fiammenghi
Reviewed by Allie S. (age 9)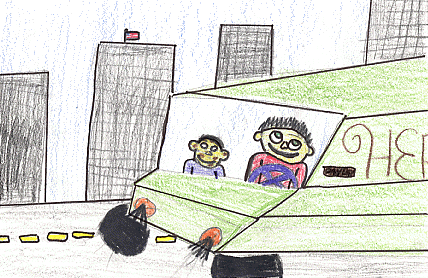 Have you ever craved something? Well Henry Green craved chocolate. He could eat chocolate for breakfast, lunch and dinner. He had never had a cavity. It wouldn't even make him sick one little bit so; his parents let him have it. One day at school Henry noticed that he was getting brown spots his arm. He went to the nurse. The nurse didn't know what the spots were. The nurse took him to the hospital. When he got to the hospital the doctor asked who had been eating a candy bar in his office because he could smell chocolate. Nobody had eaten a candy bar in the room. The doctor took some DNA tests of Henry's spots and no one would believe it. The spots were chocolate!! Henry was so embarrassed. He ran out of the hospital. He met a guy who drove a truck. The truck driver told Henry to call his parents when they got to a pay phone. All of a sudden they got hijacked. Will Henry ever get home?
I really enjoyed Chocolate Fever. The reason I enjoyed it is because it was cool how Henry had chocolate spots all over his body. I thought this book was funny when Henry and the truck driver got hijacked. My favorite part was when Henry found out that his spots were not ordinary but they were Chocolate!! One of the characters reminded me of my uncle. The character that reminded me of my uncle the truck driver that Henry met when he was running out of the hospital. My uncle drives a UPS truck. That's why I enjoyed this book.
I would recommend this book because it was unusual. The thing that is unusual is Henry's chocolate spots. I think people who like books by Robert Smith would enjoy this book.