When Sophie Gets Angry--Really, Really Angry...
Written by Molly Bang
Illustrated by Molly Bang
Reviewed by Ann-Marie R. (age 7)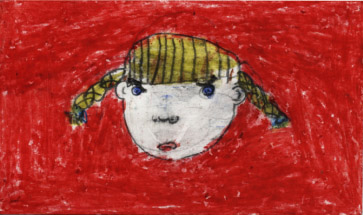 In this book, Sophie learns how to be calm. Sophie gets angry because her sister grabs her Gorilla doll and makes her trip over a toy truck. She kicks things and wants to smash stuff and she feels like a volcano. She runs away. When she is outside, something happens to her. The pictures in the book are very big and colorful and sometimes they show you how Sophie is feeling.
I like the book because Sophie feels like a volcano, and sometimes my brother feels like one; sometimes I feel like it too. I like when Sophie cries and I like when she feels better, and I like when a bird goes, "Tweet tweet!" I like Sophie but I didn't like her sister, because she pulled away her doll. I didn't like her mother because she told Sophie it was her sister?s turn. I liked the pictures because it looked like a real exploding volcano. I also liked all the little animals talking, and I liked that there was a picture on the back cover. The book reminded me a little of "The Fat Cat Sat on the Mat" because the rat gets angry too.
I like this book because sometimes I feel just like Sophie when I get angry at my brother. I think my mother, brother, cousin, and best friend would like this book, because it's about fighting and you could learn from it how to calm down. I think that other kids will like this book too.