Fluttery Butterfly
Written by Tennant Redbank
Illustrated by Sonja Lamut
Reviewed by JS (age 6)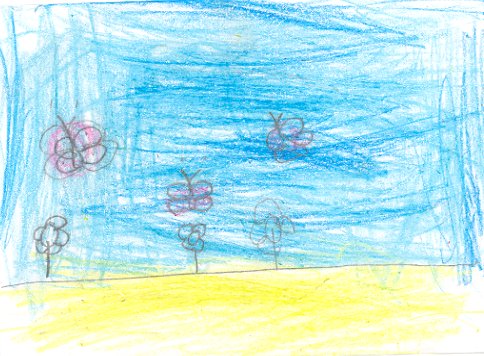 I chose this book because I like butterflies. In the beginning some butterflies are flying. There are all kinds of butterflies. They are different colors and they remind me of rainbows. Then, there is a hungry bird that is looking for some food. Sometimes, birds eat butterflies. The butterflies were hidden in the grass. Butterflies like to land on flowers and sip the nectar. In the middle of the story there is a storm. During the rain, the butterflies hide in a tree. After the rain, there is a rainbow. In the end, it's nighttime. The butterflies rest in the tall grass and flowers. In the morning, they fly to look for more flowers.
This book is special because it has glittery butterfly tattoos. My favorite part was when the rain stopped and the butterflies were watching the rainbow. I have seen butterflies before at recess. I like to watch them. I wish I could fly like them.
I think that everybody would like to read this book because it has tattoos and pretty butterflies.