Carnivous Carnival
Written by Lemony Snicket
Illustrated by Brett Helquist
Reviewed by Katie H. (age 10)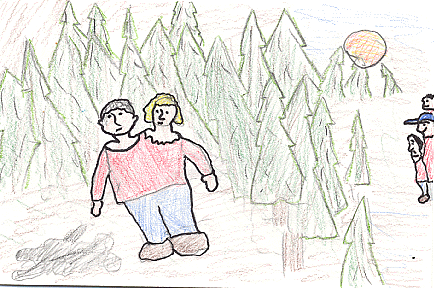 Imagine you have to disguise yourself like a two headed person so the police won?t catch you. Well that?s what the three Baudelaire orphans have to do. The Baudelaire?s parents died in a terrible fire that also destroyed their home. Their parents left behind a fortune for the kids. Meet Violet, the oldest, Klaus, the middle child, and Sunny, the youngest. A gang is trying to steal their fortune. Sunny dressed up like a baby wolf, and Violet and Klaus dressed up like a three headed person. Eventually the gang finds the Baudelaire children and tries to steal their fortune. How does the gang tries to steal their fortune? Why are the police chasing them? Find out by reading this book.
This book reminded me think of the book The Three Little Pigs, because the wolf sneaks up on the pigs, just like the gang sneaks up on the Baudelaire children. It made me feel excited when Sunny bit a member of the gang on the leg. This book is part of a series called the Unfortunate Events, but this book was the most exciting because they find an answer to a secret.
I recommend this book because it is very exiting. If you like the series the Unfortunate Events, you will like this book.