Halfback Tough
Written by Thomas J. Dygard
Reviewed by Mike A. (age 12)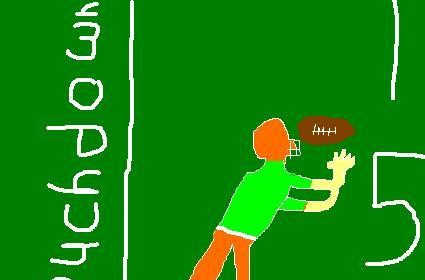 The story Halfback Tough is about Joe Atkins, a senior in high school with a troubled past. During the summer he moved to Graham from Worthington. Joe went to Worthington and wasn?t ?Mister Popular?. His two best friends were Marty, and Richard. All three of them were trouble makers. Some things they did were smoke cigarettes, skip classes, and drink vodka. They never stole. Now Joe has to move. His parents told him he can clear his slate, so he does something he never thought of doing, join the football team. All he thinks about is what Marty and Richard would think. He thinks they?d call him a snoot. Now all he can do is play some football through hard times. But there is only one problem Worthington High is on their schedule.
I really enjoyed reading this story it had a really good lesson. But if you want to know the lesson you?ll have to read this book. This book is long but if you like football you?ll enjoy it. I enjoyed reading the games, they were very detailed. Joe was a bad kid and a new school changed his perspective about school and ?snoots?.
I would recommend this book to any kid from ages 10 and up, the vocabulary is tough. But if you love football you should really read this book, if you want to learn about football I would read this book. Halfback Tough is a great book. This book is long but it is worth reading.