In a Dark, Dark Room and other Scary Stories
Written by Alvin Schwartz
Illustrated by Dirk Zimmer
Reviewed by Leah S. (age 6)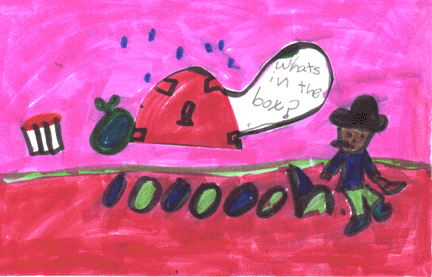 I really like In A Dark, Dark Room. I think it is very scary. Every character in the book has freckles. There are 7 scary chapters in the book. I think these chapters are not real. On the cover there is a picture of a character from every chapter.
There is a chapter called The Green Ribbon. In the chapter The Green Ribbon there is a girl named Jenny. She always wore a green ribbon around her neck. The girl liked a boy Alfred. Jenny and Alfred grew up and married each other. Alfred wanted Jenny to take the green ribbon off. He keeps asking, "Why do you wear that green ribbon all the time?" When she got old something scary happened!
There is a chapter called The Teeth. It is about men whose teeth get bigger and bigger and bigger. The boy in the book was running home because he was afraid of the men's teeth.
In the chapter In A Dark, Dark Room there is a box, and when the box opens something happens.
In the chapter The Night It Rained, I do not understand because Jim's mom said his son has been dead for almost a year, but the man met him yesterday. He came to the house to pick up his sweater.
In the Graveyard is a very short chapter. Corpses are in the book. Corpses are dead bodies.
I think that you should read this book in the dark because it will get scarier.
I do not think the ghost of John would be alive because the book said he would be chilly with no skin on. I think the older a scary book gets the scarier it is. I am not afraid of the 7 scary chapters. But maybe in the dark.
I recommend this book to everyone, well not everyone. Everyone might not be interested in this book. Some 3 year-olds can read this book. My brother is 3 and he reads this book. I would think it would start at age 3.