Morris the Moose
Written by Bernard Wiseman
Illustrated by Bernard Wiseman
Reviewed by Dakota K. (age 6) & Alexandra M. (age 6)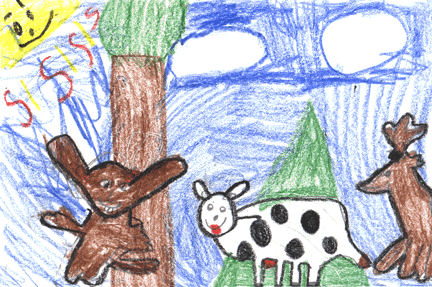 A moose named Morris thinks that the cow is a moose. They walk to another animal-a deer. The deer thinks Morris and the cow are both deer. All three animals walk and they see a horse. The horse says, "What are those funny things on your heads?" The horse thinks all three animals are horses, but he's never seen antlers or horns. All the animals drink from a stream and they're surprised when they see their reflections. They never saw their reflections. They all made a mistake. They found out that the cow was a cow, the moose was a moose, the deer was a deer, and the horse was a horse.
We like this book because it is funny. If you like funny things, you would like Morris the Moose. Morris says MOOSEtake instead of mistake. Morris the moose is funny.
We think first graders would like this book. They would really like this book because there is a surprise at the end.