Ribsy
Written by Beverly Cleary
Reviewed by Arielle S. (age 8)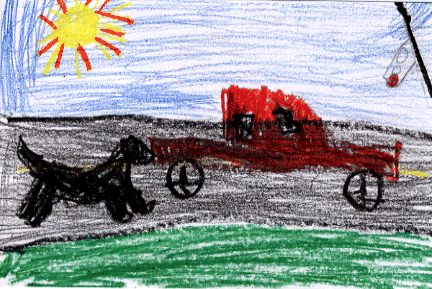 Ribsy is a city dog. He has a owner named Henry Huggins. Ribsy is a nice dog. Ribsy could not get in the new station wagon. Ribsy could tell that the Huggins were leaving, because he could hear Mrs. Huggins tip-tapping in high heels. He could smell fresh dog food fresh from the can. When the Huggins left, Ribsy ran down the road and he rolled his ball down the street. His ball was all wet from last nights rain. He chased the car all the way to a red stoplight. Read the book to find out what happened next.
My favorite part was when Mrs. Huggins was tip-tapping in high heels.
The book reminds me of my two dogs that died. It all started when my family was going to Connecticut. My Memere forgot to take Simba off the chain and he got hit by an 18 wheeler, but now we have a new dog named Hunny.
I felt good when I read Ribsy because it felt like my two dogs were still there. I recommend this book to age seven to eleven.
There were 192 pages.