I Love You Like Crazy Cakes
Written by Rose Lewis
Illustrated by Jane Dyer
Reviewed by Hannah F. (age 8) & Dana T. (age 8)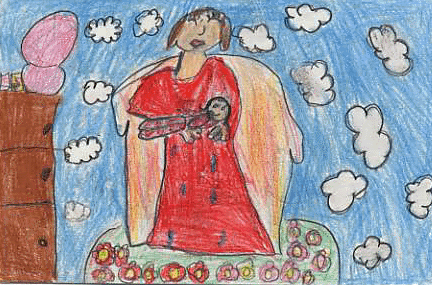 Do you love something like crazy cakes? Well, the woman does in this book. This is a book about a baby and a woman. One day, the woman wrote a letter to the officials in China to ask them if she could adopt a beautiful baby girl. Soon enough, she boarded a plane to China to see her baby, her precious gift. When she put the baby in her arms, they both cried. The woman thought, "Do the Chinese people have a window to my soul?" That same night in the hotel, the woman put the baby girl in her crib and kissed her hands and tiny feet one hundred times. The woman also put crazy hats on the baby girl before she went to sleep. When they arrived home in the United States, family and friends were anxiously awaiting with hugs and kisses. You should read this book to find out more of what the woman and baby girl do together!
Dana's favorite part was when the woman said, "I kissed your hands and tiny feet a hundred times" because Dana's mom does that to her little sister and it is so sweet. Hannah's favorite part was when the woman put the hats on the baby because it was so cute.
This book reminds Dana of the night when her mom put hats on her little sister when she was getting ready for bed. Her mom took pictures as Dana's sister fell asleep with the hats still on. The part when the baby plays with her new toys reminds Hannah of a time when she sees her little cousin sitting in his carrier and looking at everything and playing with all the toys.
Hannah thinks that the illustrations match the words and tells the story really well. Dana thinks the illustrations explain a lot and it is easy to picture the story in your own mind.
We think the most special part of this book is the way the woman expresses her love to her baby.
We recommend this book to people who love books about babies and unconditional love. If you love books that have a happy ending, you should read this book. We also recommend this book to readers that don't want to put down the book that they are reading and never want the story to end!