When I Lived with Bats
Written by Faith McNulty
Illustrated by Lena Shiffman
Reviewed by Cameron S. (age 8) & Sean D. (age 9)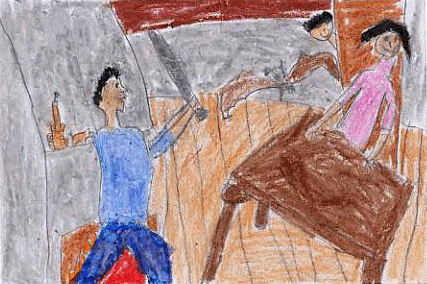 Once a family had rented a farmhouse. They did not know about the bats that were living in the chimney. The first time they saw a bat, it flew into the kitchen. The boy in the story started to swing at the bat but his mom told him not to kill it. The second time the family saw the bat, it almost bit the mom's hand. The bat came out again in the garage. It was hiding behind a pot. The bat came back again but you'll have to read this book to find out what happens this time to the bat and the family. You can learn a lot of information about taking care of bats from this book. The lesson in this story is to never kill living things.
My favorite part of this story was when the bat almost bit the mom. This reminds me of when a fruit bat hurt its wing because it hit into the window at my house. I had a friend over and we ran outside to see what it was. I also like this book because it talks about how to take care of bats. (Cameron S.)
I think this book is a good book because it taught me about these really cool creatures called bats. I liked this book because it has a lot of pictures of bats and I like bats. The color illustrations are really cool. I really like the drawing of when the bat flew into the bedroom. (Sean D.)
We recommend this book to children of all ages who might like to learn more about these interesting creatures - bats.