The Mitten
Written by Jan Brett
Reviewed by Gozde G. (age 8), Jonathan I. (age 8) & Kyle G. (age 8)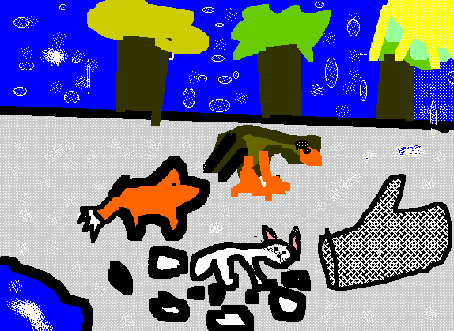 Did you ever lose a mitten? A Ukranian boy named Nicki wanted white mittens but grandma told him he would lose them in the snow. He insisted on white so she made them. He went to play outside. He lost one of the mittens while he was climbing a tree. A mole came along and went inside the mitten. Then a rabbit asked the mole if he could go in the mitten. A whole bunch of other animals came and asked if they could go in. A mole, rabbit, hedgehog, badger and fox. Then the bear came in the mitten. What will happen if they all go in? Read to figure it out!
We like the book because we like the animals that are in winter. It starts with small animals like a mole and then bigger and bigger animals come. Jan Brett is an awesome artist. She gives hints in the edges about what is coming next. Jan Brett is also an awesome author. We can't wait to turn the page and read more! Gozde's favorite part is when the bear sneezes and the mitten blows up! The animals look like they're doing cartwheels when the mitten blows up. Kyle's favorite picture is when the grandma sees one mitten is so big. Jonathan really likes the illustrations on the edge of each page.
We recommend this book to people who like winter stories. We think second graders can read this book because there's not too many words on each page. Even if your not good readers the pictures, with the hints on the edges, can help you figure out what you figure out what's going on.