Rover Saves Christmas
Written by Roddy Doyle
Illustrated by Brian Ajhar
Reviewed by Michael C. (age 9)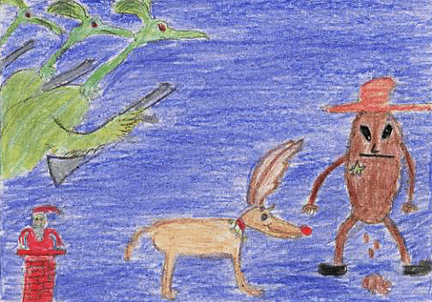 If you liked the "Giggler Treatment" you will love this book. This hilarious book is exciting because they talk about crazy things like; birds with machine guns, talking lizards, and walking and talking poo. Yes, I said, POO! I laughed the whole time and so will you.
I thought the book was great. I liked it alot because of the crazy things that went on. Actually, they are beyond crazy they are ridiculously crazy. Who could ever believe a dog could take Rudolph's place and save Christmas.I really like funny things and this book made me laugh as I read it. That made reading the book fun. The illustrations were great. It really made me think of what Rover looked like. You have to read it to believe it. I hope the author writes more books about Rover!
I do recommend that 4th and 5th graders read this book because they will appreciate the humor. Read this book and see what I mean.