Never Trust a Cat Who Wears Earrings
Written by Dan Greenburg
Illustrated by Jack E. Davis
Reviewed by Victor E. (age 11)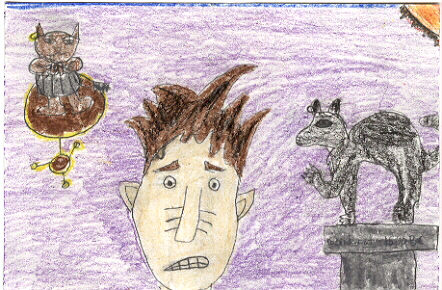 This book is about a boy named Zack who went to a museum and saw an Egyptian cat statue. Then one minute later it scratched him. Zack went home and told his dad. His dad laughed and said that a statue couldn't scratch him. Zack was in the living room and started scratching the couch like a cat. He was turning into a cat. If you want to find out what happens, read this book.
I really like the book because it was a funny book to read. It reminds me of my grandmother's cat. She will get under the bed and scratch on the leg. She will stay under the bed until you leave the room. My favorite part in the book was when Zack was under the table drinking milk. Then he went to the living room and started scratching the couch with his fingers. This book is part of a series called the Zack Files.
I recommend this book to my brother because he likes funny books, and he would enjoy reading how Zack started turning into a cat. Also, anybody who is a cat lover would enjoy this book. It is a good, funny kid's book.