Daddy's Not So Little Girl
Written by Lucinda Thomas
Reviewed by Faviola J. (age 10)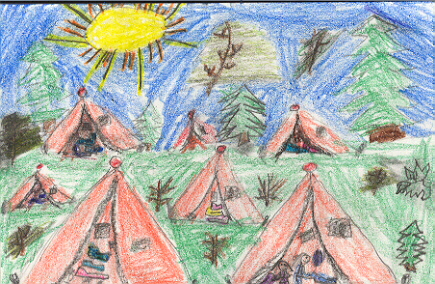 This book is about a girl named Stephanie that is sick and she missed school for a week. When she went back to school her twin friend's Darrcy and Allie had a new friend. Their new friend Hilary and the two twin's had lots of fun. The class was planning a camping trip and everyone wanted to go. She asked her dad and her dad said, "If you go I go." They got ready and they barely got to the bus on time. Will Stephanie be a happy camper or will her dad drive her crazy. Find out in Daddy's Not So Little Girl.
This book reminds me of my mom. She is always taking good care of me. Stephanie and I are almost alike but she is in the 7th grade and I am in the 5th grade. We both have single parents that treat us like little girls except she lives with her dad and I live with my mom. I really like the book because I thought it was interesting. My favorite part was when Stephanie and her dad were on the bus and her dad embarrassed Stephanie by singing to her.
I recommend this book because it was kind of adventurous, cool, and childish. I recommend this book because it has some feelings which everybody has. I would recommend it to children that have single parents and to children that like field trips. I really like the part when her dad and Stephanie go on the camping trip and she has to sleep with a girl named Mia. Stephanie and her friends did not like Mia at all.