La escuela de Maria
Written by Nina Harel
Illustrated by Mike Eagle
Reviewed by Nidya M. (age 9)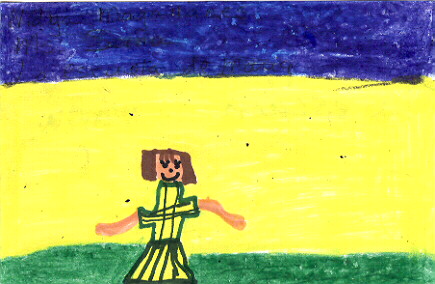 This book is about a little girl named Maria. Maria likes going to school everyday of the week. On weekends Maria likes to play school with all of her stuffed animals. Maria also likes to play with her parents.
My favorite part is when Maria plays school. This book reminds me of my own life because like Maria I also like to play school. My sister and I always play school. When I get older I may be a teacher. I also liked this book because of the marvelous illustrations it has. I think this is a book for all audiences.
I recommend this book to all the boy and girls that like to play school. I also recommend this book because all of the illustrations are very beautiful. I think that everyone that reads this book will enjoy it.
Original Student Review In Spanish
Este libro se trato de una ni?a que se llama Maria. A Maria le gusta ir a la escuela todos los dias. Cuando es el fin de la semana a Maria le gusta jugar con sus monas a la escuela. Tambien le gusta jugar con sus padres.
Mi favorita parte fue cuando Maria Juega a la escuela. Este libro me recuerda mucho a me vida porque como Maria a me tambien me gusta jugar a la escuela. Siempre juego a la escuela con me hermana. Cuando yo sea grande tal vez sere una maestra. Tambien me gusto mucho este libro por la ilustraciones maravillosas. Yo pienso que este libro es para todas las audiencias.
Yo recomiendo este libro todos los ni?os y ni?as que les guste jugar a la escuela. Tambien recomiendo este libro porque las ilustraciones son muy bonitas. Yo pienso que todos van a disfrutar leer este libro.