Froggy se viste
Written by Jonathan London
Illustrated by Frank Remkiewicz
Reviewed by Herminia H. (age 8)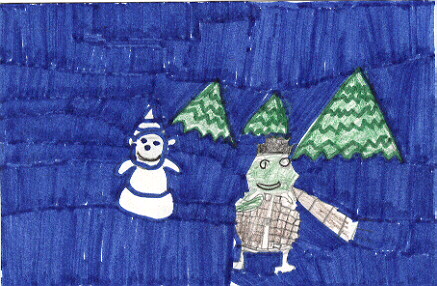 The book Froggy Gets Dressed is about a mischievous frog. He does not like to sleep en the winter time. Froggy likes to do is play out side in the snow. One day Froggy forgot to put on his winter clothes to play out side. One of the things that was very funny is when Froggy forgot something very important. Guess what is was.
My favorite part was when Froggy forgot about his clothes. I like to wear all of my winter clothes. I really liked this book because it was very funny and entertaining. This book also reminds me of another book called Froggy Goes To Sleep which is by the same author.
I recommend this book to my family because its very funny. I think it would be a fun book for my family to read. My family really enjoys reading all of the Froggy books. This is a good book for all audiences.
Original Student Review In Spanish
El libro Froggy Se Viste se trata de una rana que es muy traviesa. No le gusta dormir en el invierno. Lo que le gusta a Froggy es jugar afuera en la nieve. Un dia a Froggy se le olvido ponerse la ropa que necesita para jugar en la nieve. Una de las cosas mas chistosas fue que se le olvido una cosa muy importante a Froggy. Adivina lo que fue.
Mi parte favorita fue cuando Froggy se le olvido toda la ropa. A mi me gusta poner me toda la ropa para el invierno. Este libro me gusto mucho porque es muy chistoso y es muy divertido. A mi me recuerda a otro libro como Froggy se va a dormir y tambien es el mismo autor.
Yo recomiendo este libro a mi familia porque es muy chistoso. Yo creo que seria chistoso para mi familia porque a ellos tambien les gustan los libros de Froggy. Este libro es para toda las audiencias.