Una torta de cuple?os para Osito
Written by Guillermo Gutierrez
Reviewed by Miquel F (age 9)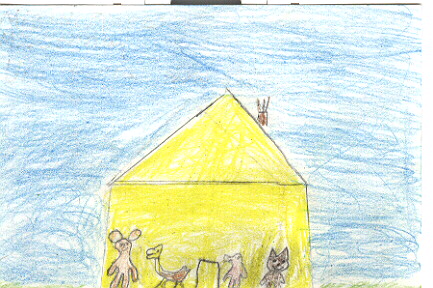 Have you heard of a book called A Birthday Cake For Little Bear? This book is a very cool book. I liked the part were little bear?s friends are out side talking about making him a birthday cake. But instead of just talking about it they go inside and make him a birthday cake. If you would like to know what else happens in the book you can go to the library and check it out.
When I read this book I liked it a lot. The illustrations are done very nicely they look like cartoon pictures. I like how this author writes. I am going look for more books written by this author. All of the characters in this book are animals I think that the author wrote a marvelous book for kids like me. This book is a happy book to read because after I read it I felt really happy.
I recommend this book to all children. I recommend this because kids can learn how to make a birthday cake. This is also a good book because the illustrations are great and the author did a nice job writing the book.
Original Student Review In Spanish
?An oido de un libro que se llama Una Torta de Cumplea?os Para Osito? El libro es un libro muy suave. A mi me gusto donde los amigos de Osito estan afuera hablando de la torta para Osito. Despues en vece de hablar de la torta los amigos de Osito van y le hacen una torta. Si quieren saber que mas pasa bueden ir a la biblioteca y sacar el libro.
Cuando lei el libro me gusto mucho.Los dibujos los pintan bien como sifuera los dibujos de las caricaturas. Me gusto mucho como el autor escribe voy a buscar otros libros escritos por el mismo autor. Los personajes del libro fueron animales pienso que el autor escribio un cuento maravioso para ni?os como yo. Este libro es un libro muy alegre para leer. Despues de leer el libro me senti muy feliz.
Yo recomiendo el libro Una Torta Para Osito a todos los ni?os. Les recomiendo el libro porque el libro les puede ence?ar como hacer una torta de cumplea?os. Tambien me gusto mucho como el autor y el ilustrador hicieron el libro.