Carlos y la feria
Written by Jan Romero Stevens
Illustrated by Jeanne Arnold
Reviewed by Rubi E. (age 8)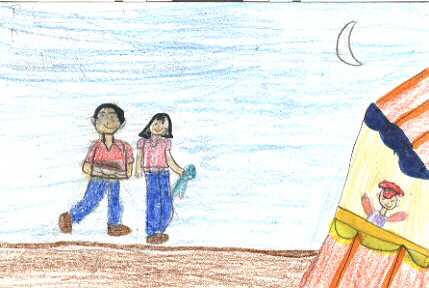 Carlos and Gloria went to the fair in their town. When they arrived to the fair they got on to one of the rides. At the fair Carlos hit his self when he was trying to hit one of the games. After that Carlos and Gloria ate tamales and continued to play. During the time Carlos and Gloria were at the fair they had an exciting time. You will have to read the book to find out what happened at the end of the book.
I liked this book because Carlos and Gloria did a lot of exciting things. This book reminds me of when my mother takes me to Six Flags and we have a lot of fun. It also reminds me of when I got on the spider ride for the very first time. I felt happy when reading this book because I liked that Carlos and Gloria went to the fair together. I liked how the author of this book describes all of the exciting things Carlos and Gloria do at the fair.
My recommendation is for all people to read this book. All people that read this book can learn how to be respectful and kind like Carlos was to his cousin Gloria.
Original Student Review In Spanish
Carlos y Gloria fueron a la feria de su pueblo. Cuando llegaron a la feria se subieron a un juego. Carlos en la feria se pego con el martillo cuando intentaba pegar le al juego. Despues Carlos y Gloria comieron tamales y regresaron a jugar. Durante el tiempo que Carlos y Gloria estubieron en la feria se divertieron mucho. Tendras que leer el libro para saber lo que pasa a lo ultimo.
Este libro me gusto por que Carlos y Gloria hacen cosas muy divertidas. Me recuerda cuando mi mama me llevaba a Six Flags y nos divertiamos mucho. Tambien me recuerda cuando yo me subi a la ara?a por primera vez. Yo me senti feliz cuando lei este libro por que me gusto que Carlos y su prima fueran a la feria juntos. Me gusta como esta autora describe todo lo que Carlos y su prima hicieron en la feria.
Mi recomendaci?n es para todas las personas porque asi pueden saber como ser amables y respetar a otras personas como Carlos hizo con su prima.