Zack's Alligator Goes To School
Written by Shirley Mozelle
Illustrated by James Watts
Reviewed by Marina D. (age 8) & Sanaz P. (age 7)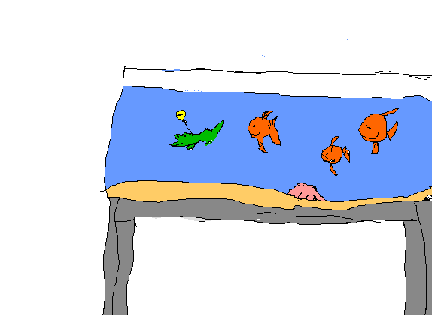 Zack had a girl alligator keychain. He brought the alligator to school for Show and Tell. Buster knocked the alligator named Bridget out of Zack's hand and it landed in the fish tank. The alligator grew bigger and bigger and bigger! Then the teacher went to get the principal. When they came back into the classroom the alligator had grown smaller and smaller and turned back into a keychain because the alligator did not have enough water. Read this book to find out about the rest of the story.
We recommend this book to people who have keychains and who like alligators. This is a very funny story and it's a nice book for kids to read. If you like books by Shirley Mozelle then get this book.
This book reminds me (Sanaz) and me (Marina) of the book, Morris the Moose Goes To School. They are both funny and both take place in school. It reminds me (Marina) when I get into a lot of trouble in school.