The Hardy Boys - Kickoff to Danger
Written by Franklin Dixon
Reviewed by Keven D. (age 12)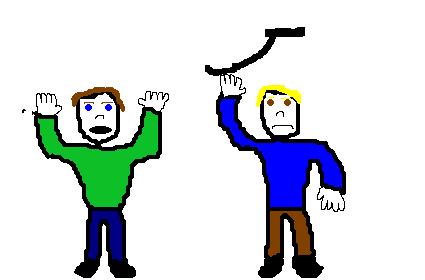 The Hardy Boys are at it again, looking to solve another mystery. This mystery is very exciting. There is a new kid in school, and on the football team. His name is Terry Golden. In front of any adults or teachers, he acts just ?golden?. But behind them, in front of classmates, he is a very bad person, by making a gang, and starting fights with the nerd kids. The Hardy Boys, Joe and Frank, don?t like him one bit. But then the ultimate thing happens. Golden?s gang has stolen the nerds? books and bags and taken them down to the basement. That?s when things get ugly. One of Golden?s boys, Biff Hooper, had been hit with a shovel in the head. He is badly injured and has to go to the hospital. All signs point to Chet Morton, who was next to Biff with the shovel in his hands. But was it really him who had hit Biff? It looks like it?s up to the Hardy Boys to find out!
I found this book to be very interesting and thrilling. The way the author wrote it, it made me want to not stop reading. I wanted to read the next chapter to see what happened. My favorite part was when Frank Hardy got into a fight with Terry Golden. Luckily, Frank ended up winning. There was a character that changed in some way. Terry Golden would change back and forth through the whole story by being nice to teachers and being mean to his classmates. This book is part of a series. Some other ones are Slam Dunk to Trouble, Skin & Bones, and Trouble in Warp Space.
I would definitely recommend this book. I would recommend it to anybody that likes a really good mystery story. I think that all of the interesting things that occur in the story would interest the reader.